The Tree of Life Trust Zimbabwe is a non-governmental organisation whose vision is to create a healed and empowered society that puts its energy into processes of peace, recovery and reconciliation. We provide community-based mental health and psychosocial support (MHPSS) approaches that help people living with trauma to reconnect with self, nature, family and community.
Between 2003 and December 2020 we have:
Facilitated over 1800 trauma healing workshops for over 15,000 victims of organised violence and torture

Trained over 150 community-based survivors as volunteer trauma healing facilitators

Provided psychoeducation workshops for over 7900 people, including community leaders, youth, women, communities and NGO staff

Trained over 70 community-based survivors to conduct psychoeducation and psychosocial first aid workshops

Conducted qualitative and quantitative research with the Center for Victims of Torture (CVT) and the Research and Advocacy Unit (RAU)
We monitor impact by measuring improvements in mental health outcomes of our beneficiaries, using the World Health Organisation SRQ-20 as a screening and follow-up tool.
Download the Annual Report - 2019 - See end of this page for the link
Download a healing workshop brochure - See end of this page for the link
Snapshot of Achievements for 2020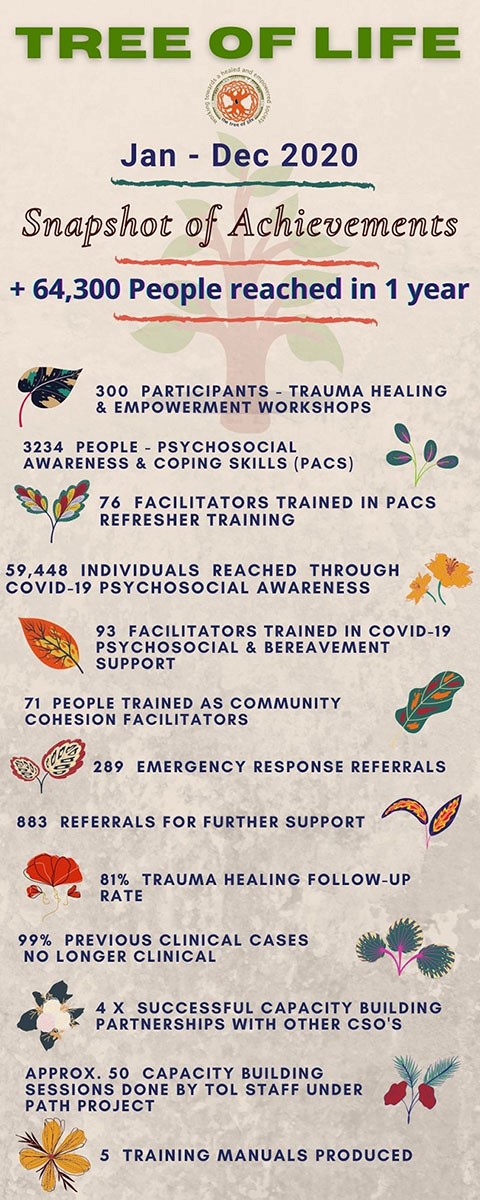 Art Therapy Sessions - December 2020